January 12, 2021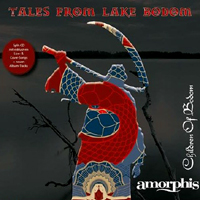 The leader, founder of the legendary metal band Children Of Bodom, who was the vocalist, guitarist and composer in it - Alexi Laiho recently died. So, let's start a series of articles dedicated to the creativity and musical artworks of this artist.
Let's start with the Children Of Bodom - Tales From Lake Bodom (Split) album, which combines the musical creations of bands that have become icons of their musical styles - Children Of Bodom in the melodic death and Amorphis in the doom death, which, moreover, surprised with the musical experiments of some albums.
The musical narration begins with the Suicide Bomber (Children Of Bodom) mid-tempo anthem of epic melodicism that combines restrained drive with vocal charisma. The musical tempo accelerates with the introduction of vocals. Then the Halo Of Blood (Live Summer Breeze 2014) ( Children Of Bodom) composition complements the music with the energy of a live concert. This section of the album concludes with the unity of the stylistics of these groups in the sound of one musical stream of the Black Winter Day (Amorphis cover) (Children Of Bodom) song.
Unhurried reflections, combining the influence of northern folklore with the progressiveness of musical variations, continue the release with the participation of the next band in the Illusion (Amorphis) track. Once again, the participation of fans and listeners wraps around the Hopeless Days (Live Loudpark 2013) (Amorphis) musical narration in whirlwinds of listener admiration. Well, this musical artwork ends with the unity of the groups' creativity, but in a another combination - the Every Time I Die (Children Of Bodom cover) ( Amorphis) song.