February 04, 2021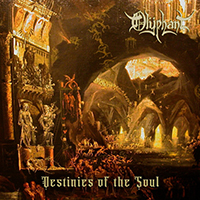 The mystical invocations of the invisible The Great Old Ones magician begins the mysterious narrative of the Olÿphant - Destinies of the Soul concept album, very impressive musical artistry with vocal reflections, embodied in the following composition Deities & Demagogues, which combines musical lace with vocal experiences. The Conjuror continues the musical story with an epic saga, a mid-tempo anthem that exalts musical grandeur and complements the vocal part with even notes of growling.
The echoes of oriental mysteries and rituals of Tibetan monks begins a sound of the Beyond the Door song with a bewitching mystery, but the vocal part after a fragment of reverie calls for the unity of drive and similar mystical mysteries. Developing oriental motives, the Grimoire of the East Woods Witch acts as an introduction to the Die, Monster, Die! next composition, in which the music at first rises in a whirlwind of impetuous drive, but then brings in the spirit of mystical melody. The title composition of the Destinies of the Soul album raises the banners of sophisticated thoughts, enveloping them with epic artistry of musical melody and mesmerizing laces of musical variations of progressive sound complication while maintaining epic mystery.
The acoustic guitar solo The Wanderer acts as a very apt introduction to the final composition of the album The Wizard (Uriah Heep cover), pointing to the source of inspiration for this musical artwork, embodying a renewed perception of such a musical sacrament.