February 03, 2021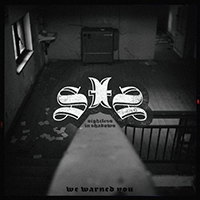 Whipping up alarming forebodings with the twilight of the musical atmosphere, in which guitar riffs wind up a var of alarming impulses, the World on Fire then brings vocal emotions even more intense anticipation of impending disasters, starting the sound of the Sightless in Shadow - We Warned You (EP) release with frightening notes with echoes of electronic impulses.
Combining the futuristic stylistics of musical variations with the atmosphere of oriental motives, the Diabolical Suitor instrumental composition brings waves of drive to the guitar solo, bringing an element of readiness for any test and battle with any opponent.
The unhurried march of the procession of technogenic detachments builds up the waves of a rhythmic march, continuing the instrumental narration, raising the banners of the Xtrmnt valiant anthem.
This release closes with the Insolent Demand track's atmosphere of mystical mystery of instrumental variations - as if paving an invisible path between the witchcraft rituals of the distant past and the information grandeur of the distant future.