November 03, 2017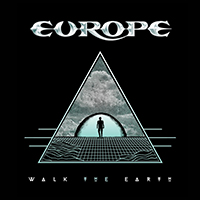 Keyboard passages create an exciting melody of the Europe - Walk the Earth album's title track, enveloping the dreamy atmosphere of emotional vocal phrases.
An alarming, viscous stream of The Siege main motive embraces with some anxiety, with the introduction of the vocals the rhythmic structure becomes more complex, following the vocal part.
Again the leitmotif appears already in the Kingdom United introduction, with restless waves rolling up disturbing thoughts with guitar riffs, over which dreamy clouds vocal chorals soars, atmospheric keyboards passages serves as the background.
Acoustic guitar bust, light piano notes and symphonic keyboards and orchestral motifs create a romantic mood in a dreamy ballad Pictures.
Perseverance and energy inspire entry Election Day, which will require meticulous preparation, maximum concentration and attention to the smallest details.
A dusky fog envelops a mysterious atmosphere, foreseeing that in the fog around something from the imaginary shadows outside the doors can be dangerous beasts, Wolves or something much more terrible.
The drive captures in a bright stream of musical extravaganza GTO, keyboards passages combines with guitar riffs in a unique dance in the beam of magnificent melodic light.
Haze envelops us in impenetrable fog, quite meaningfully personifying its name. From this twilight, emotional vocal phrases and mysterious keyboard passages are singled out, exacerbating the musical atmosphere with their dances.
Guitar riffs from the beginning dominate the sound Whenever You're Ready, vocal phrases bring a bit of blues, barely keeping up with the rapid guitar breaks, intertwined with notes of keyboards parties.
The symphonic ballad Turn To Dust, based on the majestic passages of the organ, like returns us to the majestic medieval ceremony of the coronation of the knight for the heroic act of bravery , completes the album.