November 02, 2017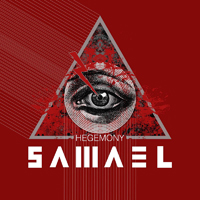 So delightful symphonic realization of oriental motifs, covering us from all sides with the hot breath of hot winds, begins Samael - Hegemony (Limited Edition) album with the title track.
Continuing all the same hot desert breath the Samael fills the sound at first with a rhythmic drive, then again extolling the triumph of symphonic ideas. A grim motive full of dark charm Angel of Wrath begins part of the album overflowing with black magic, enveloping the melodic darkness of its melodic music with muffled, restrained vocal phrases, again and again repeating the name of the composition in choruses.
Soft keyboards passages in the Rite of Renewal introduction becomes the main motive of the composition, continuing the reign of darkness in the album's music.
The disturbing concern of cosmic proportions encompasses a thoughtful sound, Red Planet bringing a fraction of the hope in the proud solemn music of this anthem.
Despite the name Black Supremacy presents first a wave of furious drive and electronic motives, then envelops with a joyful perception of confidence in the triumph of black power and the dark path.
Again the confidence in the preference of the chosen path penetrates with the sound of Murder or Suicide, the symphonic keyboards passages resonates with the deep and soft background created by the bass guitar.
Disturbing notes of musical vortices appeal to meditation in This World, they are completed by symphonic instrumental passages and pensive vocal phrases.
Anxiety and dark meditation pierces with music of the sensuous ballad Against All Enemies mind and thoughts, embracing with the gloomy forebodings of the coming battles.
The proud sounding of Land of the Living takes the significance of the broadcast history, making us think about the fate of the world around us. In the verse, music is permeated by the spirit of rhythmic drive, in the chorus the symphonic anthem takes the solemn sound of its orchestral heralds.
Dictate of Transparency continues the manner of the previous composition, rushing through the verse in a swift drive and dancing in a melodic saga in choruses. Paying tribute to the legendary band, Helter Skelter, Beatles cover, complements the symphonic tradition of the album, continuing from an unforgettable song.
The album ends proudly in its recreation of the atmosphere of preparations for a grandiose battle against the elements Storm Of Fire (Bonus Track), meaningfully carrying these sensations in their music.