November 04, 2017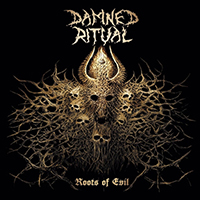 The whirring of chainsaws, the screams of frightened victims starts Damned Ritual - Roots of Evil album with the brief Intro.
The wave of furious drive Witness Me after a brief introduction takes in the vortex of music, combining the alternation of growling and screaming in vocal parts.
Next Level of Hate continues the musical extravaganza similar to the previous composition, but music becomes somewhat denser and gloomier. The vocals are dominated by screaming.
The vague premonitions of the impending disaster are enveloped in a musical fog, Scum again alternating between screaming and growling in vocal phrases The screams of militant comrades-in-arms forms Times of Wrath introduction, then carries away in a musical impulse into unknown distances. In vocals, screaming again in the main role, growling and rare phrases of pure vocal complements the musical image.
A dense twilight envelops the consciousness with mysterious melodies of the Made intro, then a powerful rhythm breaks down warnings, after which a furious impetus in an unrestrained drive takes to meet the future terror. In bridges, the enchanting melody envelops with so seductive romance.
The Men of the North main motive from the very beginning is in a whirlwind of musical aspirations, through storms and blizards, over rocks, mountains and fjords.
Creepy fear covers the mind, fettering thoughts with hard impulses that Breathing the Fear, rolling in frightening shadows of unclear doubts. In this frightening horror, screeching captures a dominant position, growling occasionally complements vocal phrases. The melody of the chorus is so charming that she wants to listen again and again.