April 20, 2021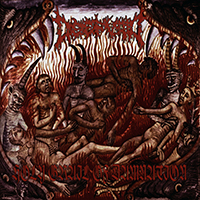 The title track begins the twilight mystery of the Deepvoid - Holy Grail Of Damnation album with the viscous burdensomeness of musical passages, complemented by the pensiveness of vocal severity.
The music and vocals first break off in a fierce whirlwind of deadly dance, but then give more importance to brooding. But in the Ecstasy Of Golgotha composition, this alternation is repeated over and over again. The Graveyard Of Seraphims track's musical dusk is combined with vocal reflections in a single fog of impenetrable haze.
Pumping up energy and drive in a fierce musical stream of harsh density, the Deathhammer (Asphyx cover) pays homage to one of the iconic legends of this musical genre. Then, after an intriguing introduction, the Profounding Oblivion sets the mood for a furious musical thriller.
Gloomy, painful and viscous vocal narration gets bogged down in the Emerging Nocturnal Dominion song's twilight musical sound, the funeral procession marching in the gloomy twilight. The Hypnotic Voices Of Hell closes the album in the same dark twilight oblivion, leaving even more mysterious omens.