April 20, 2021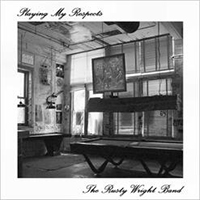 The vocal thoughtfulness with artistic notes of guitar improvisations begins the musical narration of the The Rusty Wright Band - Playing My Respects album by leisurely reflections of the Down Don't Bother Me magician composition. Providing in the sound of the overtakes of the wanderings and adventures, the Mojo Hand song somewhat changes the direction of the development of the musical sacrament.
Bringing guitar improvisation and harmonica tunes to the forefront of the musical image, the Death Letter House Blues complements these musical changes with overbearing vocals. The Same Ol' Blues continues romantic softness, starting with the charm of the improvisation of the guitars solo, then vectors vocal reflections with a mild chime of guitar strings and a symphonic atmosphere of keyboards artistry.
The musical history of the Ain't Got You song is marching with notes of enthusiastic playfulness. The Hard Luck Child returns to leisurely thoughtfulness, returning to the acoustic sound, characteristic of the origins of this style.
The Square Peg In A Round Hole song's notes of rock'n'roll playfulness, combined with slow thoughtfulness vocal reflections are creating the charm of the unity of musical styles and genres. The Alice Mae track completes the album with the sparkling celebration of musical joy.