March 20, 2021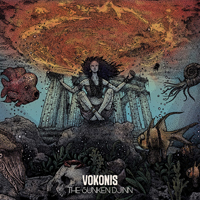 The title composition begins the Vokonis - The Sunken Djinn album with a thoughtful march, then blaming the magic reflections of vocal by the majestic seedings of the solemn procession. Music solemnity is combined with a vocal procession in the unity of the majestic anthem. The Calling From The Core song's musical motifs of the guitar solo of the main motive bring the musical tale of a notch of sad romance, whining the atmosphere of sadly ballads.
Rolling the harsh perseverance of the twilight, The Coldest Night rolls the musical canvas of a stubborn and viscous march. The twilight thoughtfulness of vocal reflections alternates with confident significance of harsh music passages, confidently, hard and tight marching on the chosen musical path. But the vocals are inspired and rebellious to the importance of his party to the top of the Blood Vortex musical image that embodies the dancing rebar in the bus tracks, translating the arrows of the musical path in meditation of instrumental bridges.
The intriguing hem of the guitar solo creates an atmosphere of further expectations in the atmosphere, in the future, the musical canvas of the epic musical path of the Architect Of Despair composition will be laid down. Music and vocals are woven in thoughtful dance, the Rapturous song's romantic atmosphere of the fascinating romantic waltz lace, enchanting the listener's consciousness by intriguing guesses. The muffled pulsations of the Maelstroem instrumental composition are completing the album of mysterious omens.