March 21, 2021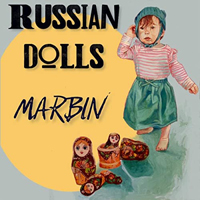 The soft chime of musical notes seems to carry us through time, returning to the When There Becomes Here ancient tunes that will forever remain in our memory. But then the jazz elements of improvisation reveal the true essence of the Marbin - Russian Dolls album. The next Yellow Roman Candles instrumental track brings a trumpet solo to the forefront of the musical image, complemented by artistic musical variations that create an enchanting lounge atmosphere.
In a romantic atmosphere, the musical passages of The Great Rosegray composition creates an atmosphere of sad romance, complemented by background pulsations of percussion variations.But then the background rhythmic shawl recedes, and the mesmerizing tunes of French chanson appear on the stage. The Years That Ask Questionsonce again dispels the atmosphere of romantic reverie and transports us into the mesmerizing atmosphere of an precious restaurant, where an experienced jazzman performs an unforgettable improvisation on stage.
But in the Ships At A Distance track's atmosphere of sensual tenderness, the improvisational saxophone solo, complemented by background musical thoughtfulness, dominates. The chime of the guitar solo creates a background for the thoughtful reflections of the saxophone, giving answers to the questions asked in one of the previous compositions - in fact, embodying the meaning of this statement with the Years That Answer title. Thw Things Of Dry Hours sums up the album with wise appeasement, as if embodying accumulated experience and rejecting excessive zeal for changes.