November 30, 2020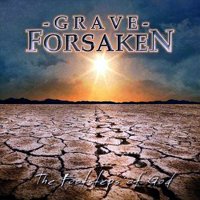 The Intro (The Footsteps of God) begins the Grave Forsaken - The Footsteps of God album's musical narrative with a majestic guitar solo, then accentuates the title with vocal phrases. The One True Way complements vocal phrases with rebelliousness, pulsing with fickle variations in musical tempo. Twirling the lace of mesmerizing guitar solo, the Judges then wraps the musical procession with epic vocal significance.
The vocals spur the musical narration, re-emphasizing the title over and over in the Temple of Crucifixion twilight saga chorus. The Ruskin Arms facilitates the vocal part and soars in a hurried dash race. Pumping waves of epic severity, the Celebrity Judge and the Sinners, Pt. IV focuses the sound in the mid-tempo march of a harsh anthem. After this procession, the I Think It rushes in a rapid flight of musical drive, entwined with a sparkling guitar solo.
Combining the pulsating procession of the battle march with the bright dance of the guitar solo of the intro and instrumental part, the God-Given Strength it is quite impressive sounding. The Calm in the Storm song draws attention to changes and variations in the vocal part. The Warriors of the Cross tale of the templars and crusaders puts the final point on the album.