October 08, 2019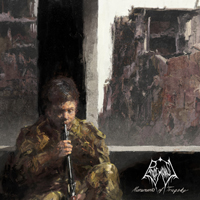 A fascinating symphony, along with mysterious vocal proclamations, entangles you in intriguing ways, then the And Death Was The Way music and vocals harden their narrative, revealing the true essence of the Pandemonium (SWE) - Monuments Of Tragedy album. Effacing The Decadence continues to severely deenergize, enveloping the deep and unyielding urges of the vocal growling with sparkling and bewitching notes of musical variations.
Shots, screams of pain, the cries of the wounded are overpaid and culminate in In Search For Euthanasia bewitching symphony, rising with the majestic banners of an inspired symphony, raising the growling and waves of drive to the top of the musical image. Beginning with a bewitching symphony, then Necromania Unleashed embraces several genres with a bewitching appeal, calling out vigorous bitterness with vocal phrases, but enveloping the vocal severity with sparks of bewitching musical appeals. Electronic impulses transform the sound of the album, interwoven together with the harsh and disturbing echoes of ancient legends, while preserving the industrial image in the foreground of The Code musical image.
Keeping the bewitching symphonic atmosphere, the subsequent compositions A Therapy In Blood, Severance Of Unity brings to the front line of the musical narrative the unity of screaming and growling in the vocal part. Combining severe darkness and emotional appeals in a single musical image, Under The Banner Of The Blood-Red Sun intertwines vocal variations together with a musical alternation of styles. Making the sound a little easier and giving electronic echoes to symphony, the music of Under A Cold Stone song flies into the swift unity of screaming and growling in the vocal part, intertwining several musical styles and genres. The album-topping composition The Only Catharsis further fuses this unity of styles, crowning the swift drive with the covers of a keyboard symphony.