October 08, 2019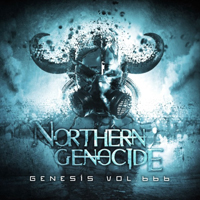 The World of Frost (Intro) muffled gloomy mystery is enveloped in mysterious ghostly echoes, acting as the introduction to the title track of the Northern Genocide - Genesis, Vol. 666 album, rolling uncontrolled waves of drive shimmering with electronic impulses, then the vocals compress the musical narration to a medium-tempo drive, exploding with impetuous impulses in bridges and raising banners of charm to the chorus.
The demonic muffled witch's laughter ends with a lace of mysterious musical passages, then the witch's speech completes the Black Widow introduction, then complementing the vocal mid-tempo rhythmic march with the notes of female vocals and returning again to the musical image. In the introduction and verses, industrial motifs come to the fore, interwoven in a single musical stream of the Annihilation of the World of Spirits chorus with a metal drive.
The ticking of the watch fascinates with an obscure mystery, then the mid-tempo musical canvas, shrouded in sparkling notes of keyboard passages, creates the dominant motifs of the Neon Antichrist musical image. Then the Eclipse music is transformed by the dominance of industrial motifs, sparkling with sparkling guitar and keyboard notes, and squeezing the musical part of the verse with an epic vocal narrative. In bridges and choruses, vocals changes from growling to screaming. The Siren continues the dominance of industrial motifs, giving the rhythmic component notes of a technogenic electronic atmosphere. But the vocals complement this flicker with an alternation of severe growling and emotional screaming.
The electronic chimes of the keyboards crowns the Soul Dystopia pulsating waves of drive, complementing the emotional vocal phrases with the enchanting melody of guitar solos. Pumping up a gloomy atmosphere, shrouded in ghostly vortices in verses, giving a bewitching intrigue to the melodious doubts of instrumental bridges The Avalanche in the chorus lifts the sparkling banner of enchanting melody.
Epic notes and echoes of electronic symphony envelopes Sintropolis vocal phrases topped with background notes of female tunes, mesmerizing charm of an exciting ballad. Ikiruoste completes the album, moving from English lyrics to the band's native language, crowning vocal parts with musical motifs that interpret northern folklore motifs with electronic sounds.