October 07, 2019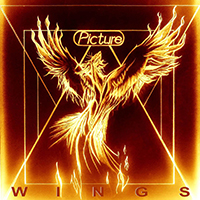 The mesmerizing guitar solo suggests the beginning of a ballad, but then the whirlwind of the drive brings the lively and unrestrained energy of the drive to the sound of Line Of Life song, holding back the swiftness of the musical passages with the introduction of the vocal part. The title track continues the Picture (NLD) - Wings album by adding notes of a pulsating rhythmic heartbeat, and crowning the musical and vocal variations with the inspired coverings of sparkling keyboard passages creating an atmosphere of a romantic anthem.
The introduction again presupposes a spirit of bewitching romanticism, however, but the introduction of vocals transforms Little Annie song's music into a medium-tempo composition that sounds on the verge of a ballad and gloomy musical mystery.
Driving the waves of drive Is It Real begins a whirlwind of freedom-loving rock-roll riot, continuing it with the sound of the Blown Away next composition, whirling vortexes of musical passages around emotional vocal phrases. Inspiration of a meaningful and inspired march pays tribute to ageless musical traditions with the No Place To Hide epic mid-tempo march banners.
Transforming the sparkling waves of drive Empty Room expands the stylistic framework of the album, introducing into it the unbridled swiftness of heavy metal. The guitar solo begins the instrumental part with a pensive romanticism, then returning to the rapid drive. But Never Enough song returns to the rhythmic appeals of traditional rock.
However, the group does not disappoint the listener - the next song combines notes and shades of several musical styles, supplemented by bewitching sparks of bewitching mystery, are progressively and impressively interwoven into the sound of Still Standing composition. Starting with a pulsating drum roll, raising epic passages of guitar riffs, Stroke ends the album with an even more varied unity of musical styles, interlacing the military march, romantic musical motifs in the lace and intermingling them together with the narrative of the vocal part.