July 17, 2021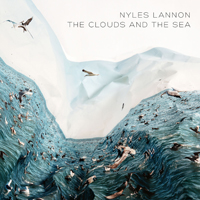 The title composition begins the n. Lannon - The Clouds and the Sea album's musical narration by inspired dreams, combining musical passengers with vocal dreams in the fascinating dance, shrouded in romantic charm of background keypads. The acoustic guitar begins the sound of the Love Again song by the essays of some kind of influence of the country style, but the drums are asked by this romantic ballad's influence of the drive of modern music.
The vocal party builds the sound of the Destination Unknowncomposition on alternation and a combination of male and female vocals, emphasizing the female vocal the name of the song. The Hiding is marching in muted musical mystery, enveloping doubts and obscure guesses musical and vocal unity. The Dreamer (Alex Kemp Remix) track continues the dreamy mood in the dancing procession of the rhythm of popular music, combined with synthetic and futuristic shades and influences.
The Unicorns instrumental symphony acts as an introductory intrigue to the final part of the album, in which the Flooding in the Brain music and vocals are united in unhappy reflections and the development of a diversity of musical mysteriousness, facilitating the perception of musical twilight and the Endless Night (Halou Remix) romantic symphony into unity with vocal experiences.