July 17, 2021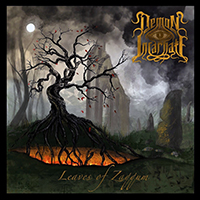 Symphonic intro sets the mood for the rhythmic sound of the In Disguise song, with the dominant female vocal. The The Liar's Tongue composition strengthens such a sound, continuing the Demon Incarnate - Leaves of Zaqqum album's musical narration of a dense and powerful rhythm crowned by vocal phrases. The To Resist track rolls the waves of a stubborn, stubborn and synthetic medium-point march.
Revealing the gates of the subsequent dilogy, the Longing for Pt.1 instrumental part rises by romantic thinking. The Black Veil song continues the motives given in previous instrumental reflections, but diversified by their sparkling vocals and musical reflections. The Lunar Majestic track prosesses as a mid-tempo processing of thoughtful ballad. The Over the Under composition put forward vocal reflections of female vocal on the forefront of the musical image.
Arab motives set a spicy atmosphere of sound to the Longing for Pt.2 vine track of the dilogy, which continues the development of its motifs in a harsh drive, which makes the final album fragment in the Serve the Cause and Grave Worms compositions.