August 30, 2016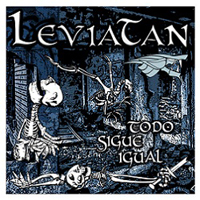 Everything changes - but only in appearance: Leviatan (ESP) - Todo Sigue Igual - meaning remains the same!
Quick rhythmic explosion carries a shock wave ahead, then vocals transforms the Impostor with its emotional shades into the amazing story, the emotions which appear in parts of the picture, written on the canvas of the world around us.
Dense powerful sounds of the Miserables keep our attention, hold it tight with its shackles. Since the physical and tangible movement suppressed with bounding fetters, consciousness leaves boring shackles and ascends upward - to the stars and dreams. His desire for higher limits irrepressible, it can't be stoped!
Distinct hitting steps beats tight and oppressive rhythm on the road of Desaparecer life. The rhythmic blows continue to thresh ordinary, unsophisticated and furiously. Stubbornness and confidence of its drive characterizes this track as well!
Introduction binds all of the thoughts and calms aspiration for freedom, then title track Todo Sigue Igual accelerates the pace, dramatically and rapidly entering a narrow canyon, that limits its flight, without deviating to empty and unnecessary goals. The goal is correct, visible, palpable - there are means to achieve it!
Vortex of Sin Miedo spinning around the general direction of its melody, vocals emotionally stain their jerks from side to side - but doesn't leaving the general direction, issuing a nervous aria in the middle! Then it merely adds a touch of color to tracks leitmotif.
Heroes asleep and see, dream about meeting with neopusuemym monster that no one else is unable to conquer and destroy. One of these monsters is Leviatan (Bonus Track), sanks at sea depth a lot of ships, its horrific images and legends intimidating sailors in pubs for ever and ever!
Fascinating guitar riff of intro combines harsh toughness, power and catchy melody - all for the glory of The Trickster, that riff becomes a leitmotiff of that narrow track. There is no point in refined, artful designs - rhythmic stormy gusts perfectly holds exciting melod in their shores!
Powerful plunge into the depths of doubt, not allows to deprive Vile Men from all benefits and opportunities that available for another people. The main motive supports and accompanies with its powerful urges the vocals, that fades outrage of dishonored by public opinion to low and contemptible position in its emotional impulses. And the story ends!