August 29, 2016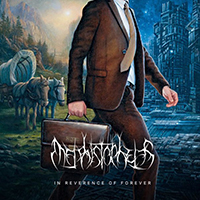 Agree or not - but state Mephistopheles (AUS) - In Reverence Of Forever is the only possible mode of existence!
The noises, the talks, announcer adverts about the preparation for boarding the train and the behavior at the station - that makes intro The Station worthy to our attention.
But a noise at the station left in the past, gloomy atmosphere reigns around, covering Lake Morose with its fetters. Pulsing monstrous feeling erratic variability becomes agitated, awesome brief sermon. It is followed by screaming and the flash of rage, and then the preacher returns. Melodic guitar break followed by furious screaming rush, then narration combines growl and scram in the single burst.
Deliberately and slowly unrolls the roadway The 11th Skywalk Travelstream in front of strangers. Travelers wander in the volatile pace - sometimes leisurely marching growl, other way - screaming rush. But these flows are trying to merge into a single, enduring efforts from distancing to unification - finally, they succeed!
The Orator begins the story with a confident balanced manner, then jumping up with coils at some time in the screaming spurt. But the confidence and peace of mind returned to the grim oppressive atmosphere, combining screams and growls in the overall picture, broken rhythms fit into a single canvas. Their strange broken curves becomes as inconspicuous parts of the beautiful unique ornament.
Slow, ornate guitar riffs framed with vocals bursts and instrumental spurts in the R.J Everlife. But the basic tempo retains its way, not allowing occasional inclusions to change the main method of composition. It does makes track as ordinary and boring - on the contrary, its palette colors with contests shades, competitive emotion and struggle for the primary role!
Tired of dust and dirt of frail land - want to experiencel The Time In Which I Astral Travel. High motivation, despising clouds, soar high in the sky, soaking up the sun. Scream and growl have ceased their contests, competitions and debates - united in a single burst of exciting fun describe the heavenly heights and blessed accolade. But even this grace is not forever - though we would like to.