February 09, 2017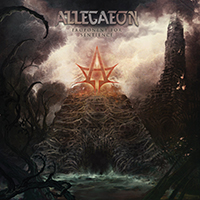 Allegaeon - Proponent For Sentience tells that all around - only a fraction of everything that unexplored yet!
The sublime, eternal and very significant story begins with ornate, complex and monumental sounds of Proponent For Sentience I - The Conception in orchestral extravaganza,then combining metal rigidity with the brilliant eternal values, that manifest in the All Hail Science motives, combining fierce and unyielding mode eastern and European folklore motifs.
The powerful, precise and rhythmically yells rage boils over, spills over the edge into hysterical screaming From Nothing, that sounds so tough and harsh - as hard to imagine something more!
After a fierce frenzied anger comes a break - in soulful, melodic and aerial tunes of Grey Matter Mechanics - Apassionata Ex Machinea, that transforms into complexed shapes of various chants and melodies - transforming vocals in different shades and shapes. Again, guitar extravaganza appoints rest and respite - to once again appreciate the beauty and composition's delights and forr all of surrounding events, completing the composition of acoustic guitar.
Mysterious intriguing riffs call mythical creatures, are not prone to difficulties and complexities. On the contrary, Of Mind And Matrix raises the full power and fury of hard instrumental motifs, exalting the beauty and melody in the bonds of shining armor.
The prophets and preachers bears their sermons, prophecies and omens further following the Proponent For Sentience II - The Algorithm, promoted clearly and steadly for all around with harsh and powerfull speaches of growling spirits.
In short intriguing intro of Demons Of An Intricate Design sacrament gathering ambiguities spills angry and violent outbursts in the fierce gusts of combining vocal and instrumental changes rabies. The melodic guitar solo gives respite and restoration, but the anger and rage complete their frenzied flurries.
Nervousness wandering bard is embodied in a fierce guitar riffs of Terrathaw And The Quake, surrounding dreamy and beautiful melody furious impenetrable armor...but demonic fury descends to the quiet, calm tune.
Slowly and without restraint shades rush from one extreme to another, it is difficult convoluted outlining their melodic palette in an obscure and complex outline, painting melodic motif only in the bridge to gain in Cognative Computations. Then, pure vocal melody dissipates complexity by combining a few chants - anticipating guitar solo, that leads the track closer to the end.
Quiet and spokochynye notes envelop lullaby, but The Arbiters always on guard - they violently and immediately start performing their duty, checking everything that gets in their point of view - clearly, hard and rhythmically machines bring to review its mechanisms, rotating gears!
Space phrases and melodies breaks into albums songs, introducing air melodies and bringing clean vocals to the foreground, giving it major role in Proponent For Sentience III - The Extermination, cosmic saga of uncharted unexplored spaces.
The rhythmic melody of Subdivisions ends the entire album with the lace of Rush cover motifs and delicate melodic clean vocals.