February 08, 2017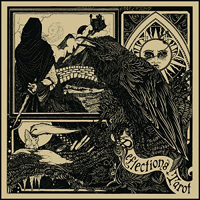 If mind caged in doubts, challenging decisions have to be taken - we don't hurry, always spending time in Tarot (Aus) - Reflections !
Gentle motive starting from guitar strings fingering, enveloping with the veil of Autumn Conjuration mist, hiding from the gaze of the ordinances of the world. Then the mystery complements with the vocal phrases, sublime keyboards passages and guitar riffs that bears medieval melodies.
Ancient motifs Heed the Call returns to our perception, ascending with the guitar melodies and fantastic keyboard inclusions. Then heralds counts with drumroll the march detachment of knights, clad in shining armor with the glorious banners.
Fabulous enchanting keyboard motif leads the instrumental pattern of Strange Dimensions, dominating the surrounding images of its fantastic medieval influence. Then a muffled vocals whisper brings a gentle fairytale romance in this lyrical sonata.
Significant, big, monolithic entry points to the rhythmic and clear pace of Cloak and Dagger sounding. Clear and precise rhythm dominates over the instrumental delights which only allows for concise inserts.
Title track Reflections sounds as dreamy romantic minstrel ballad, that offers enchanting flute and brilliant strings passages in the instrumental sonata, which performs bard, that have enchanted by beauty of moonlight.
Medieval tunes brings the sound of Mountain Throne to wonderful spaces, which uprises mind beyond the dreamy tales of knightly exploits, legends of heroes, conquering dragons and other lofty tales.
The gentle, brilliant ballad Living for Today completes all artwork with its sparkling and bright tunes.