January 21, 2018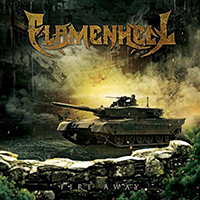 The persistent, severe drive, like the fierce attack of enemy soldiers, causes Systematic Chaos anxiety and anger, then the growling vocals make the music more stern, thickening the musical darkness around its harsh phrases. Then the wave of harsh vocals adds to the shades of the vocal part of the first composition of dedicated to wars, conflicts and battles Flamenhell - Fire Away album.
The exciting main motive appears already in the Flammenwerfer 35 introduction, whirling around with whirlwinds of doubt and meditation. The vocal party is dominated first by a deep, thick and meaningful growling, then it is supplemented by an emotional disturbed harsh, when the music returns to the enchanting melody of the introduction.
A confident, harsh and unshakable musical twilight after a brief preparation for the Die By My Hands introduction sweeps a wave of severe drive, the vocals are interspersed with the growling with the harsh and from time to time explodes with burst of screaming. In the instrumental part, the unexpectedly melodic guitar solo enchants, bringing to the militant fervor a shade of bloody romance.
The title track continues with the style of the previous song, but the rhythm and tempo change to a pulsating, energetic race, hurriedly and swiftly bringing fighters to the stated objectives. In bridges, doubts and experiences are broken by the flow of fast music, prefacing the chorus with a melodic guitar passage, followed by an evil gloomy melody and confident repetitions Fire Away phrase in the chorus. Before the completion of these combat missions, once again in the instrumental part, the marvelous melodic guitar solo is charming.
Dancing in a slightly lightened musical stream, Avro Lancaster then denses and tightens the rhythmic pattern, ending it with doubts and experiences before the instrumental segment in which the guitar solo ascends over the rest components of the musical image.
The commander's precedes Blitzkrieg accault is rolling in gloomy waves on the broken musical fog, from time to time rushing into sharp and impetuous impulses, then slowing down in doubts and reflections.
Dusky, enslaved and gloomy March Of The Fallen Snakes track in verses tends to break out of aggravating fetters, in breeches they pull their binds even tighter. But then a mad impulse uprises wave of furious drive. An energetic and dense stream of furious drive The Temple Of War picks up a harsh and growling in a single vocal impulse of the verse, supplementing them with notes of screaming from time to time. In the pre-refreshing bridge there is a tinge of reflection that envelops the mind with a fog of doubt - perhaps all wars and battles lead only to loss, destruction and abyss of wasting emptiness? So - the album ends.