April 05, 2020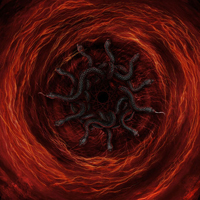 The long-term development of twilight intro brings mystery into the atmosphere of The Light of Lucifer track, with the introduction of vocals flying swift whirlwind drive, sometimes slowing down in the procession of a dark anthem. The Eternal Fire of Golachab continues the sound of the Infernal Angels - Devourer of God from the Void album with an unbridled race of rapid drive, but the introduction of vocals pacifies the pace of musical zeal, then weaving a whirlwind of vocal phrases in a dance with a musical drive.
Keeping the musical power of furious drive From the Throne of Thaumiel pacifies the pace of musical narration, lifting vocal phrases to the crests of musical waves. But the vocal narrative recedes before an explosion of musical fury in instrumental bridges. Those Who Go Forth into the Empty Place of God fascinates with the unity of the vocal story of a fairy tale and a whirlwind of melodic musical passages, sharing musical fragments with the charm of melodism. Exploding with a fierce whirlwind of musical thriller Ancient Serpent of Chaos complements the drive with melodic charm, pacifying musical unrestrained choruses.
Developing from an unhurried musical motifs the extravaganza of the epic narration Thagirion (Sol Niger) (feat. Hellhound) envelops the vocal phrases of the guest vocalist with sparkling covers of mesmerizing melody. The title track of the Devourer of God from the Void album captivates progressive variations of the rhythm of the section, bringing the vocal narrative to the forefront of the musical image. Starting with marching pulsation, The Corrosive One then combines vocal significance with the rhythmic sighs of musical drive, complementing the musical essence with thoughtful narratives.
Music combines Far from the Light of God melodic reverie with power and drive, marching on the brink between a mid-tempo march and a fierce thriller. The Empress of Sitra Achra epic tale continues the album with variations of vocal reflections wrapped in lace of musical variations. The release closes with The Foremost Among the Eleven (feat. Discissus) musical composition, also complemented by phrases by a guest vocalist.