October 01, 2019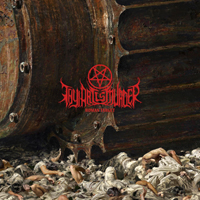 The title track starts the Thy Art Is Murder - Human Target album with a mysterious chime of intro guitar notes, then bringing the vocal part to the foreground of the musical image, first shimmering with a mid-tempo speech, then alternating between rapid explosions of the drive and returning to the mid-tempo march. Continuing the introductory mysticism, entering into vocal phrases enveloping in an epic twilight New Gods continues the musical narration with epic vocal phrases, then flying away on the waves of a fast drive, ending with rhythmic appeals.
Wrapping a whirlwind of twilight musical passages, Death Squad Anthem verse marches in a viscous harsh march, raising the banner of the dark anthem in the chorus. Wrapping vocal phrases with vortices of passages of the main motive, Make America Hate Again rolls the waves of a gloomy march. Eternal Suffering begins with mysterious vocal calls, braided by muffled guitar breaks, then the composition takes on the shape of a twilight ballad, after which it tightens the rhythmic component, pumping the trends of dark drive. Continuing the mystical atmosphere, Welcome Oblivion in the verses rolls the whirlwinds of a gloomy drive, emphasizing the title in the choruses again and again.
Returning to the expanses of unclear sacraments, Atonement is enveloped in obscure ghosts hovering around a variable rhythmic structure and significant vocal phrases. Raising the vocal part to the top of the musical image Voyeurs into Death rolls waves of an irresistible and viscous medium-tempo drive. Vocals elevate the majestic narrative of the Eye for an Eye story to the forefront, musical passages support the vocal narrative. Chemical Christ completes the album, introducing shades of progressive artistry into the rhythmic structure.