July 16, 2019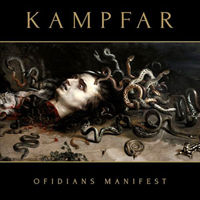 The howl of obscure beasts precedes the vocal slogan, which sets the tone for the beginning of the Syndefall composition. Then the whirlwinds of the main motive envelop the vocals phrases with the twilight of haze spheres.
The Ophidian song, which is part of the title of the Kampfar - Ofidians Manifest album, continues the musical narration by weaving a pattern of vocal phrases and guitar passages together unite.
Mystical sighs and epic keyboard passages of the Dominans intro anticipates the addition of the composition with female vocals, then giving way to male ones starting with pure vocals, then returning to growling. At the same time, the music preserves the unhurried majesty of the dark anthem. Then again the female vocals come to the forefront of the musical image in anticipation of the instrumental part, which is complemented by the distorted chants of the female vocals.
The main motive rolls the waves of musical drive, male vocals alternate the sentences of demonic growling with choirs of adepts, weaving a bewitching musical canvas of the Natt composition. Then the musical drive retreats, the vocals turn to clean and foreshadows a soft, spellbinding keyboard solo, anticipating the final part of the composition with a magnificent anthem. But the drive still returns.
But the impetuous impetuousness retreats at the beginning of the Eremitt song, marching with an imperious march with harsh speeches. However, after the keyboard chime, the swiftness returns to the composition, while preserving the epic melody, however, and complementing the background vocal chorals. The final part of the composition is similar to the initial.
A march that walks from side to side creates the Skamlos! introduction, then vocal rage intertwines with impetuous drive, being carried away in a furious swiftness, which bridges and chorus strive to hold back. A soft, muffled acoustic guitar solo anticipates the development of the Det Sorte composition, then emotional vocal phrases crowns meditatively mid-tempo musical canvas, then alternating swift drive with mid-tempo epic reflections and completing the song and the album is similar to the introduction.