August 17, 2020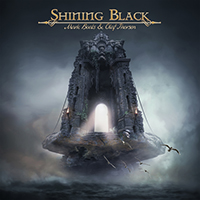 The enigmatic guitar solo of The House of the Fallen Souls intro, with distant echoes of obscure mystery, is enveloped in the artistry of keyboard symphony, then enveloping the dominant vocal part with bewitching charm. The guitar solo of the instrumental part brings the drive and swiftness of the metal music energy. By creating a whirlwind of musical artistry in the keyboard passages of the intro, then the Boogeyman brings the vocal part back to the forefront of the musical image, twisting this keyboard lace with the vocal phrases in the chorus, continuing the unity of the musical essence of the Shining Black - Shining Black album. Rising into a fast-paced whirlwind of drive the My Life song accelerates the pace of musical narration, pumping up a fast paced rhythm with a bright guitar solo, but somewhat restraining the music with the introduction of dreamy vocals.
The romantic ballad A Sad Song captivates with brooding vocal reflections and mesmerizing keyboards in the background, weaving music and vocals in a bewitching chorus waltz. But the final chorus is preceded by acceleration in an inspired race of drive, ending with romantic tunes. The title track Shining Black envelops in an inspiring atmosphere, marching with a solemn anthem along the edge of the mid-tempo sound, accelerating the pace for a sparkling vortex of guitar solo. Taking the keyboard parts to the top of the music, the Just Another Day builds up some acceleration of the tempo, crowning the musical canvas with vocal reflections with pulsating bass passages on the background.
Thickening the sound with the guitar riffs of intro the Where Are Your Gods then complements the restrained mid-tempo drive with emotional vocal phrases. But the sound of the musical symphony of the instrumental part is especially fascinating. Varying the tempo and musical style, The Carousel combines an incredible number of genre shades in a single musical saga, complementing them with an epic sounding atmosphere. The Day We Said Goodbye develops the atmosphere of an epic fairy tale, complementing the mesmerizing vocal charm with a majestic musical symphony. Enchanting with the sound of the introduction, twisting a symphonic lace of guitar solo and keyboard passages, the We Fall completes the album with its inherent incredible melody.