August 16, 2020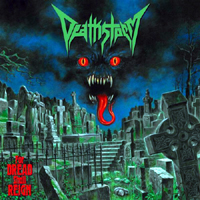 Exploding with a furious stream of frantic drive, the Unforgotten Wounds begins the Deathstorm (Aut) - For Dread Shall Reign album's musical narration with an energetic musical thriller, sometimes resting with rhythmic pulsations of a leisurely procession, anticipating the guitar solo of the instrumental part, ending such a fragment with vocal phrases and a fast-paced guitar solo that returns unrestrained drive. Transforming rhythmic structure over and over again, the Blades of Delusion retains the sonorous severity of guitar riffs.
Combining a mid-tempo march with desperate vocal emotions, the Bloodlusted takes you into the vastness of rebellious reflections. The rhythmic passages of the Ripping and Tearing introduction anticipate a fast-paced musical race, crowned with haste vocal phrases. The dark sound of the Sulphuric Scents dark anthem gives the vocal narration a gloomy atmosphere, sometimes accelerating the tempo to the brink of mid-tempo sound, exploding with frantic acceleration in the final part of the song.
The Mourning romantic charm of an acoustic guitar solo with a distant breeze in the background culminates in an explosion of frantic drive in the Funereal Depths furious musical thriller. The mysterious twilight of mystical omens of the Toxic Devotion intro gives way to a whirlwind of impetuous drive, returning to a mid-tempo march with vocals introducing, repeating this alternation with an explosion of drive crowned with vocals. The Stygian Black continues a similar style, alternating mid-tempo fragments filled with twilight mysticism with swirls of impetuous sounding. Exploding with the fierce anger of the intro, the Human Individual Metamorphosis then weaves vocal phrases with a vivid musical solo in a mesmerizing dance, but bringing frenzy with instrumental bridges to the sound of the album's final composition.