August 20, 2020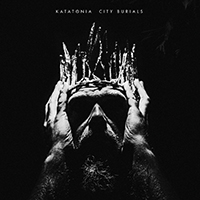 Brooding vocal reflections are intertwined with impressive echoes of the Heart Set to Divide melodic essence, bringing progressive influences to the sound of the restrained drive of instrumental bridges. The Behind the Blood continues the Katatonia - City Burials album's musical narration, captivating with the bewitching sound of the musical passages of the main motive. Sad reflections of the Lacquer unhurried musical composition continue the musical coverings, bringing emotional nuances with vocal experiences. Gloomy musical passages lift the Rein vocal part to the crest of a wave of saddened sound.
The vocal part captivates The Winter of Our Passing musical variations, complementing their experiences with influences. Romantic reflections of the Vanishers ballad complements the vocal part with female vocals, alternating and combining them with the brooding reflections of male vocals, crowned with notes of keyboard grandeur. The twilight triumph of the City Glaciers mysterious anthem envelops vocal phrases that combine male and female vocals with veils of epic obscurity. The echoes of mystical mysteries bring echoes of forgotten fairy tales to the musical essence of Flicker composition, complementing the dominant male vocals with female background phrases.
Male and female vocals intertwine in the mesmerizing mystery of the Lachesis waltz, keeping the vague sadness of a musical symphony in the background. The disturbing notes of the Neon Epitaph pulsating march bring vocal experiences into the realm of accentuation of their beats. Beginning with keyboard solo, the Untrodden then takes the listener into a whirlwind of dreamy musical lace, captivating with the sound of musical passages. The Fighters concludes the album by taking vocal experiences to the crest of harsh musical waves.