August 19, 2020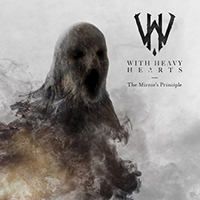 Keyboards and guitar passages come together in the Blind Eye furious symphony, marching in an emotional procession of drive, raising the banner of melodic triumph in the chorus, complementing vocal growling with clean vocals, and accentuating the main motive in the instrumental bridges. A short fragment of a mysterious pensiveness develops the introduction of Black Soul composition, which continues the With Heavy Hearts - The Mirror's Principle album in accordance with the previous unity of inspired drive and charming melody.
The The Mirror's Principle title track accentuates the harsh march of the main motive, wrapping significant vocal phrases with whirlwinds of guitar passages and crowning the sound of the chorus with background keyboard tunes. Build up waves of impetuous drive the Sparks creates anticipation, then alternating these waves with the banners of melodic inspiration and combining screaming and growling in the vocal part. The Weak Shall Inherit The world bases the sound on the passages of the main motive, giving more importance to the melody of the keyboard passages and the emotionality of vocal invocations than before.
After a short breakdown of drums, the Solar Deity explodes with the unity of the vocal and musical essence of the composition. The Everything Ends explodes into a whirlwind of drive, setting a certain vision of a musical thriller, however, retaining the melody characteristic of the album and holding back the tempo on the verge of a mid-tempo sound. Pulsing with a mid-tempo march, the Drifter weaves guitar and keyboard passages, anticipating the acceleration in the drive with the vocals intro and then returning to the intro motifs with clean vocals complemented by background screaming. The Recreation Of A Mind ends the album with a solemn mid-tempo ballad, progressively varying the rhythmic essence of the musical composition.