November 08, 2018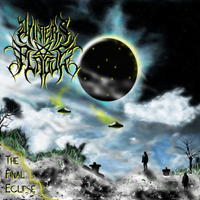 Noise of rain, thunderstorm and bad weather interweaving in the Prelude with a thoughtful romantic melody begins Winters Plague - The Final Eclipse concept album. Nightmare epic and meaningfully begins the narration with a mid-tempo anthem, enveloping the sound with enchanting guitar solos in the instrumental bridges, then occasionally taking off with waves of drive and speeding up the tempo.
With enchanting, majestic The Chosen One romance, music envelops you with fabulous motifs, thickening the dense haze of dark magic approaching the chorus.
A gloomy Phantoms introduction and a majestic verse rolls the waves of narration, rising in the chorus with incredibly melodic romanticism, enveloping fascinating muffled reflections. But then the sound gets tougher, giving a denser and darker threshold of the charming chorus. Ominous Darkness continues the ballad sounding, enchanting with incredibly melodic motif shrouded in fabulous charm of unique melodism.
The melody acquires a regretful wisdom in the Heavenly Tears intro, the rhythm thickens the sound. Before the vocal starts, the music becomes rhythmic, the vocals come in dreamyly clean, then screaming entangles the music with a web of enchanting spells, turning the composition into magical echoes, completing it with a peaceful acoustic guitar solo.
Fascinating guitar solo sets the direction of the Refusal of Fate sound, then the vocals go to the region of a harsh and gallant mid-tempo march, pulsing after vocal phrases.
A fascinating guitar solo comes to the forefront of the Where Dreams Die pacified instrumental romance intro that is completed by the keyboard passages. Waves of a harsh, dark drive roll with the trends of the Path to Hell dark prophecies, vocals predominate in the epic drive. In the middle of the composition, the vocal for a moment appears as clean vocals dreaming, but then returns to the dark drive.
Melodious and thoughtful ballads Reign of Terror, The Dead of Winter, Face to Face, Mourning After completes the album, combining soft melody with harsh vocal phrases, and rolling waves of powerful pulsating drive.