April 22, 2019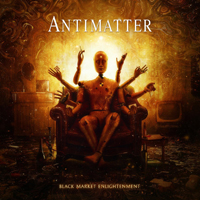 Mystically, the dusk of the The Third Arm composition envelops the beginning of the Antimatter - Black Market Enlightenment album with an atmosphere of unclear mysteriousness, vocals adds emotional tones to the narration.
Guitar riffs intertwines in so charming cocoon around vocal reflections, intertwining into a fascinating lace of pensive romance of the Wish I Was Here song.
Deviating from the limits of the musical stylistics of previous compositions This Is Not Utopia introduces a certain shades of synthetic atmosphere and unclear futuristic desires.
The mystical twilight of ancient legends envelops Partners in Crime vocals reflections with epic covers, vocals follow the path of the main motive, shrouded in fascinating mysterious musical passages.
Softly pulsing with soft sparks, the main motive raises the vocal reflections on the leading edge of the musical image of the Sanctification song, then the Existential composition complements the musical variations with albums with spicy shades of oriental folklore. Also the ambient atmosphere of desert winds is complemented by the tunes of female vocals.
Charming tunes, with a solo flute, weaves What Do You Want Me to Do? acoustic lace, which acts as an introduction to the Between the Atoms epic anthem, enveloping vocal reflections with spicy passages of intense heat. Oriental shades appears in the vocal part, complementing the male phrases with enchanting background melodies of the female vocals.
Futuristic motifs intertwines with the gloomy echoes of ancient legends, pacing the completion of the album Liquid Light in a complicated and ragged rhythms.