April 21, 2019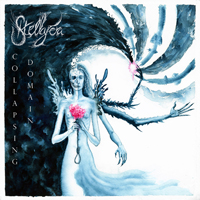 The mysterious intrigue interweaves intriguing notes of keyboards in the Innerdissention intro gloomy guesses, then the music and vocals are carried away in a rushing stream of melodic drive, revealing the true guise of the Stellafera - Collapsing Domain album. Crimson Surge continues the rapid narration, somewhat transforming the musical passages and raising the sparkling notes of disturbing inspiration to the front edge of the musical image.
Building up the sparkling walls of the illusory castle, the introduction of the Sepulture composition anticipates the appearance of the vocal, which complements the musical narration with doubts and feelings.
Twilight clubs of Dream Crime dark mysticism inspire anticipation of the upcoming composition, then Bleakest Night (Aokigahara Forest) embodies the expectations of an impetuous drive in a muffled sound, subliminal pumping up dark trends of vague premonitions.
Turning to the classical canons of black metal, Paralysis elevates the vocal narrative to the dominant position of the musical image, uprising it again and again with the inspired melody of instrumental bridges.
Continuing the style of the previous composition Sleeping Through the Apocalypse... gives the instrumental passages a more epic melody, again and again raising vocal emotions and reflections to the crest of musical waves. Mystical twilight and indistinct haze, through which streams of impetuous drive break through, interlacing into Desideria piece of musical lace, complete the album.