February 08, 2020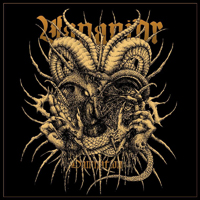 The obscure mystery of intriguing sacrament by the gloomy tunes of a saddened symphony begins the Distilled song, slowly moving along the musical path, but then the whirlwind of guitar solo raises the banners of melodic sadness over the rampant drive rhythmic component, then weaving in a bewitching dance with a vocal part, captivating with an impressive unity the main motive with inspired chorus vocal phrases, very successfully and hitly starting the Vananidr - Damnation album, continuing with the title track starting with the brooding charm of a leisurely guitar solo charming unhurried melody that gives the composition the charm of a romantic ballad, thoughtfully marching through the fog mystical mystery. In the instrumental part, melodic thoughts complement some shades of drive, complementing the final part of the composition with more furious and emotional vocal tunes.
The drive entwined with tapes of melodic shades and an extravaganza of exciting sound comes to the forefront of the musical image of the Hunter song, captivating vocal thoughts behind the race of musical passages and crowning them with musical beats. But then the sound is transformed into a pulsating procession of a mid-tempo march, rhythmically announcing a hunting procession cortega, foreshadowing the guitar solo of the instrumental part and the final part of the composition, entwining pensive vocal phrases charm the guitar solo, returning the drive to the end of the composition. Fascinating guitar passages begins Tides of blood a procession on the verge of a ballad and a solemn majestic anthem, then vocal phrases complement this mystical charm, as if transferring to the expanses of forgotten fairy tales, transforming with inspirational grandeur an impressive melody in the chorus.
Raising the banners of the solemn grandeur of an exciting guitar solo to the introduction, continuing the Wounds of old song with an inspired procession heraldic march, slowly captivating the listener and increasing the sound of the introduction in instrumental bridges. Exploding in a whirlwind a pulsating drive into the perception, Reflection then the vocals cry out to the atmosphere of melodic charm, then weaving in a single musical lace with a pulsating drive, then repeating this alternation again. But in the final part of the composition a swift drive comes to the fore, crowned with the melodic charm of a guitar solo. The album closes with the Void magnificent saga, enchanting with inspirational melody and introducing the influences of ancient tales and epic shades annals of the valiant exploits of legendary heroes.