December 30, 2021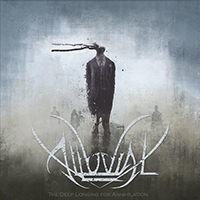 The bright and sparkling guitar solo sets the introduction with the Colony instrumental track, then continues the musical narrative with the progressive artistic sound of the Alluvial - The Deep Longing for Annihilation title track, in which the music weaves a lace of mystery and intriguing melodic structure. Combining drive and mystery in the sound of the Lila song, the music complements its musical structure with a mesmerizing melodic guitar solo.
The musical artistry captivates with the progressive and enchanting sound of the Mirelands track, then hardening and thickening the sound in the rhythmic pressure of the harsh drive of the In Penitence battle march.
Romanticism and musical sensuality are fully embodied in the musical sound of the Occlusion composition, creating an atmosphere of emotional reflection and melodic doubts. The explosion of furious and assertive drive in the sound of the As the Crow Flies track soars with sparkling and rebellious indignation of the existing orders and established rules.
The mid-tempo brooding of the Encumbrance musical sound envelops you in an opaque haze of mystery, hiding clues to new and emerging riddles. The dense, pressurized and compacted sound of the Compound track is then transformed by the musical persistence and accelerated speed of the furious musical drive. The final point in the musical novel of the album is made by the Gabrielle romantic ballad.