June 13, 2017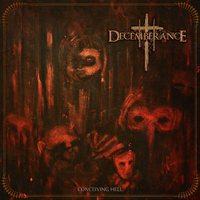 Powerfully, rigidly and persistently, The Scepter begins the Decemberance - Conceiving Hell album, with so severe growling rolling down the waves of its tale. After an insistent and furious musical shaft, the music simultaneously contracts and stretches, creating a rarefied atmosphere of a gentle melancholy canvas, in which occasionally muted phrases expresses brief sentences. But the furious and persistent wave of growling and instrumental anger has accumulated energy and comes back again - alternating with melodic instrumental delights.
Gentle, soft guitar fingering break starts Departures intro, then this sensual restrained melody have supplemented with the passages of the cello and other instruments, creating the atmosphere of symphonic sadness, anticipating the transformation of music into an angry and powerful sadness. This sensual sorrowful symphony becomes the leitmotif of the track, creating a basis for musical sadness, which complements by a deep and rich growling vocal. Then again the tactful, restrained guitar fingering riff comes to the fore, next the cello passages join this instrumental extravaganza, returning to the symphonic style. But the vocals returning again thickens the darkness of the atmosphere, the rhythm becomes ragged and broken - the music saturates with drive, after brief respite completing the composition with the powerful and assertive finish rush.
The gloomy musical atmosphere envelops by the twilight mist, visibly and leisurely overshadowing with its dark images. So gloomy, brooding and grim introduction followed by dreamy symphony, that combines soft guitar and violin passages. This instrumental symphony precedes the introduction of The Blind Will Lead The Way vocals that alternates growling with screaming inclusions, complemented by a grim and burdensome musical atmosphere. After the viscous, dark and gloomy melodies, the chimes of the elven bells, the singing of mythical flutes and bass guitar improvisation completes the composition with a detached cosmic musical image.
The sound of rain opens the gate for Sailing... intro, that starts with the tender guitars fingering break and dreamy keyboards and cello passages. Then this sensual music from time to time is transformed by violent and harsh flashes of musical density. Vocals bring drive and energy, jerking the pace, creating a pulsating rhythm of the musical saga. In the instrumental part, music calms down again, bringing with soft and sensual keyboards and a restrained rhythm of the bass the atmosphere of calm sea calmness, in which a quick and unintelligible whisper, like a muffled prayer, attracts attention and calls for the next explosion of musical indignation with harsh grovling vocals parties. In such a changeable and diverse musical palette, the composition ends ... and the album as a whole.