June 12, 2017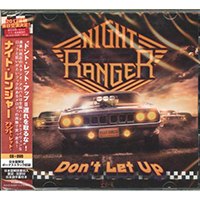 Energetic, inspiring and encouraging restrained drive of Somehow Someway starts Night Ranger - Don't Let Up (Japan Edition) album with bright and hopeful manner.
The pace of musical wanderings is somewhat reduced in Running Out Of Time track. But despite the setbacks, the lates - tune of the vocal party is still inspired by the upcoming accomplishments!
Truth sounds close to the emotive, romantic ballad. In the refrain, emotions in the vocals rush to the sky, demanding knowledge of the truth - only the truth, nothing but the truth!
Beginning like a cosmic, intriguing ballad Day And Night turns into a vortex of insistent march, circling in the chosen dance on its way.
Title track Don't Let Up again comes closer to the sound of a ballad, but the mid-tempo composition sounds like traditional American rock music.
In the introduction (Won't Be Your) Fool Again demonstrates shades of the blues sound, further to the guitar tones the passages of the piano join. Vocals reinforces this impression with its party, complementing in the choruses with the singing ladies. Once again, American musical traditions manifest themselves in the sound of Say What You Want, clearly and confidently claiming indisputable beliefs. We Can Work It Out sounds like the country-style ballad, returning to the atmosphere of their native places, recalling the mood of the homeland.
Jagged tunes of the guitars riffs starts Comfort Me story, that keeps the traditional sound style, arising emotional mood of vocals party in the chorus over the limits.
Jamie continues to confidently and clearly affirm the rock'n'roll perceptions of musical image.<> An inspiring, bright and gentle ballad Nothing Left Of Yesterday completing the bulk of the album with its positive romance.
Well, the bonus of this edition is softer, more gentle and calm interpretation of one of the compositions - We Can Work It Out (acoustic version), becoming in such performance like bright and romantic bardic saga.