June 03, 2018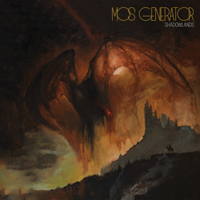 Punctuating thoughtful reflections in verses, the title track of the Mos Generator - Shadowlands album raises an emotional whirlwind in the choruses, captivating all thoughts to follow its experiences. The pulsating drive of the main motive is manifested already in the introduction, intertwined with emotional vocal phrases, turning into rhythmic bursts of belief in the increase of prowess in The Destroyer choruses. In the instrumental part, the melody takes the perception away, enchanting the melody and follows up to the completion of the composition with several phrases.
Introducing the notes of hard blues drive Drowing In Your Loving Cup captures into a viscous narrative, introducing an element of playfulness by the vocals emotions, looking over illusory temptations from all sides - there's so great need to estimate this cup for diving.
Slowly developing instrumental ideas into the introduction, Stolen Ages progressively complements his pacified reflections with artistic notes and the obscure influence of the lounge. Before the introduction of the vocals, the music becomes more assertive and dense, while retaining the enchanting melody and artistry of the ghostly jazz band.
Playful motives entails the vocal party for themselves, twisted in the flickering haze of unrestrained fun. However, Gamma / Hydra instrumental part complements the music with mystical shades, without changing, but transforming the main motif into a hazy mystery.
The dancing tunes create a musical tunnel, enveloping The Blasting Concept vocal reflections with playful motives, supplementing with light anxiety and uncertainty by pulsating the rhythm of the section on the background.
So dense, viscous Woman Song romance plaits words and musical passages, enveloping them in a dense twilight of emotions. However, in bridges and choruses, the pace somewhat increases in the desire to reveal their thoughts to the fullest. The restrained, gentle and tactful romantic manner completes the album with an acoustic ballad The Wild and Gentle Dogs, supplemented with power tools not at once - but these musical tones only complement the soft and pensive tendencies of the romantic atmosphere. Particularly fascinating are the jazz improvisations of guitar solos in the instrumental part, which artistically impose their solos on syncopic progressive musical rhythms! It is pointless to describe them - but it's so necessary to perceive and listen to them again and again!