April 24, 2019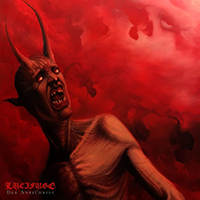 Easy and unobtrusive Ain Soph Aur saga with keyboard notes sets the Lucifuge - Der AntiChrist album intro. Then From the Cradle to the Grave flies away as a stream of furious drive, that sweeps away any resistance from its path. In this musical stream intertwined, complementing each other in a single musical impulse heavy, thrash and black metal.
The viscous guitar riff of the entrance envelops the haze, then theGrand Declaration of War music is transformed into a rhythmically pulsating midtempo march.
Being manifested by the passages of the introduction, the Death Will Set You Free main motive carries along with its course vocal phrases, which supplement its flow with pleas and doubts.
Guitar riffs epically foreshadow the development of The Witch main motive, which then severely and surely rolls waves of musical sound.
Lightening sound in The Death of the Gods fast-moving stream appealing to classic heavy metal woven with clouded harsh vocals. Age of Despair continues the style of the previous composition, somewhat reducing the tempo and more clearly emphasizing the main motive. Barbaric Names of Evocation preserves the style of the previous songs and the composition that continues musical artwork.
The title track Der AntiChrist completes the album with a persistent middle tempo march referring to the beginnings and the original sources of black metal music.