April 25, 2019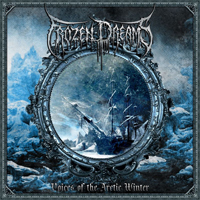 The majestic symphony Awaiting the Call opens the gates to the Frozen Dreams - Voices of the Arctic Winter album with sublime inspiration, captivating the listener with sparkling lace of epic narration. The next song A Dying World inseparably continues this epic chronicle, upraising mind to the unknown limits of majestic inspiration. In the middle of the composition, the vocals complement the enchanting melody with creaky notes, creating a union of rage and charm. The epic charm continues with The Northern Dream composition, bringing stringed instruments to the leading edge of the musical image, creating a fascinating background of musical narration with a keyboards symphony. Occasionally, the vocal part complements the symphonic charm with its phrases, acting as a unifying link in this musical sacrament.
The stringed instruments first dominates with an intriguing pulsation, then the keynotes of the Cold Embrace music are crowned with keyboard passages and vocal phrases are again the connecting chain in the lace of symphonic charm.
A gloomy anxiety weaves a web of doubt into the A Cry for Demise intro, creating a treacherous atmosphere of unbearable expectation, into which keyboard keys give additional concern. The vocal saves these unclear premonitions, the music saves a terrifying intrigue.
The Spirit of Solitude main motive first soars between the pulsating rhythm, like a fairy lost among the mystical pointers, then the music steps in a stubborn march, weaving a canvas of anxious hymn, which is said by vocal phrases full of desperate rebellion.
Title track Voices of the Arctic Winter is concluding album with a majestic symphony, in which the vocal part complements the musical charm with hints of harsh emotionality and elevates the listener to the indescribable grandeur of the northern night and frozen dreams.