July 14, 2022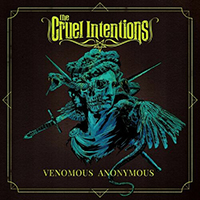 Outraged and rebelliously furious vocals demand continuous attention to their narrative, again and again emphasizing the Reapercussion title in the chorus, then the sound of the title track gives the sound of the The Cruel Intentions - Venomous Anonymous album some shades of playfulness and entertaining storytelling.
Raising the banners of the joyful procession in the Sunrise Over Sunset song, the music provides rebellious vocals proclamations with tangible support, accelerating the pace of the musical narrative in the Casket Case composition and setting the leitmotif to the guitar solos in the introduction.
The assertive musical pressure of the Kerosene composition unrestrained again and again emphasizes the title in the chorus, the premonition of peace and calming of the mind in the Salt I Ditt Sar mid-tempo procession on the verge of a ballad.
Rising in musical impatience, the Final Deathroll song combines rhythmicity with accelerated indignation, then enveloping the sound of the Goddamn Monday composition and vocals with the bright charm of musical passages with notes of romanticism. The sound of the Bad Vibes song follows the vocal phrases in a moderate procession, supporting the main vocals by chorales of colleagues in the chorus, then the Chemical Vacation composition begins with a bright and artistic guitar solo followed by a rhythmic musical step, completing the album with a stubborn and unyielding City Of Lice vocals pressure.