February 21, 2023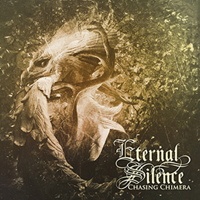 After an intriguing opening with florid guitar passages, the Dreambook composition in its symphonic grandeur elevates the vocal part of the singing lady to the top of the musical image, predetermining the stylistic and genre shades of the Eternal Silence (ITA) - Chasing Chimera album, anticipating the chorales of the Shades of Dusk intro, the unity of severe drive and symphonic charm, wrapping around the vocal part of unity and alternation of male and female vocals with its whirlwinds and captivating with the mystery and bewitching mystery of the Reverb musical fairy tale. The charm of a melodic guitar solo precedes the final fragment of the album with the unity of musical associates in the vocal part.
The musical drive raises its banners, then the vocal inspiration complements the sound of the Unbreakable Will epic saga, enveloping the valiant tread of the musical detachment with charming symphonic veils, continuing in the enchanting melodic sound of the My Cage musical fairy tale, beginning with the soft tenderness of keyboard passages, shrouded in the vocal charm of a singing lady. Then the unity of melodics and echoes of legends and fairy tales is embodied in the charm of the Astronomer musical artwork, weaving a bewitching artistic lace of musical variations around a vocal narrative that combines the shades and features of male and female vocals in a joint musical story.
The intro builds and paves the way for The Maze of my Obsession main motive, along which the vocal part marches in the midst of twilight musical mystery, then weaving the artistic lace of the main motive of the Never Forgotten composition with a whirlwind of a guitar solo, bringing symphonic notes with the enchanting melody of keyboard passages, pushing the vocal part to the forefront of the sound of the Hell on Earth song , complementing the vocal licks with meaningful instrumental passages and closing the album with a romantic mystique with echoes of the title track in the Chimera musical masterpiece, beginning with an acoustic guitar solo, which is then complemented by the Italian lyrics of the common lady and her male-voiced musical collaborator, then intertwining and alternating in a enchanting minstrel ballad .