May 07, 2019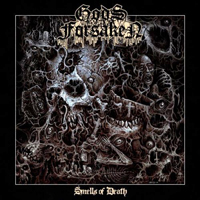 The alarming atmosphere, the background moans of sufferers, then the female voice opens the gates of the title track of the Gods Forsaken - Smells of Death album with a phrase, combining emotions and drive in a single musical stream.
The gloomy atmosphere of the entrance gives rise to alarming forebodings, then the blade of the impetuous drive cuts through the gloomy veils and displays the true appearance of the They Crawl composition.
The howling of the wolves, the whispering of owls and the gnarling of the wanderer precedes the whirlwinds of the gloomy narration of the From the Inside They Came composition, enveloping vocal phrases with the tunnel of the main motive.
The pulsating march of the In the Pit We Shall Gather main motive rolls in waves of stubborn musical sound, rolling with vocal and musical passages that embody the origins of the chosen musical genre.
Pumping up the mystery of the guitar passages of the prelude, foreshadowing the development of the composition, The Process of Death then give the dominant position to the vocals, weaving a fascinating lace of vocal and musical trends.
Pumping up the foreboding and anticipation in the verses the choruses again and again accentuate the Dead and Buried title, weaving a fascinating lace of diversity of vocal desires even in growling. We should also note the incredibly melodic guitar solo of the instrumental part.
The vocals weaves incredibly mysterious knots, entangling the development of The Dead Laughed composition, however this fascinating sacrament rises in the refrain.
Rage and drive intertwine vocals and music in a stream of impetuous drive, recreating the Birth of Insanity fairy-tale covers of ancient times, weaving lace of fascinating narrative. The ancient magician introduces prophecy, but the album ends with the The Curse of Matul instrumental composition 1 ... which I will listen to an incredible number of times. Whatever your album is, I recommend it to everyone!