May 06, 2019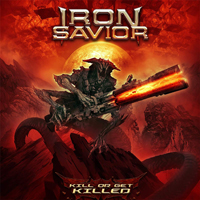 Inspirational whirlwind of the rock "n" of the roll action sweeps up the impulses of the entry of the title track, which begins the Iron Savior - Kill Or Get Killedalbum with a whirlwind of inspiration, bringing with it vocal phrases the flow of emotions and feelings.
Rage and power pump up the harsh trends, but then the musical image is transformed by the pulsating narration of the vocal in the Roaring Thunder verse, in some way returning to joining the chorus, giving it a more epic shape. Continuing the fury of the previous composition in the introduction Eternal Quest then turns to the epic narrative, enveloping the listener with an atmosphere of fairy tales and legends.
Pumping anticipation in a verse, the From Dust and Ruble raises the banner of the main motive in the chorus, enthusing with a fascinating narrative, retaining its hue in further verses.
The impetuous drive weaves the knots from the twilight narration, but the vocal phrases keeps the Sinner Or Saint composition on the verge of average tempo.
The Stand Up and Fight main motive in the introduction sets the direction for the development of the composition, the vocals add to the fascinating epic and significance of the story.
The dominant role of the vocal narration in the Heroes Ascending composition instrumental passages complements and supports. Never Stop Believing complements the musical image of the album with epic romanticism and appeals to fairy-tale images, vocals whirl up the whirlwinds of mystery, appealing to the ancient mysteries.
The majestic ballad with elements of the pulsating march Until We Meet Again injects fascinating forebodings in a verse and raises the banner of a charming narrative in the chorus. Legends of Glory completes the album with the preservation of the fabulous mystery, but complements it with musical drive and vocal experiences.