July 09, 2016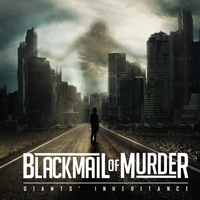 Small one? Ask someone - could indicate some meaning in the Blackmail Of Murder - Giants' Inheritance .
Powerful, unpunished sound stringing us with the Giants' Inheritance but there is no doubt that all you need to evaluate and reward - completes the track by acoustic guitar track, and a few phrases... with the might support!
Powerful, viciously ... tearing to shreds starts Never Enough! Ragged rhythm permeates, tearing apart all around!
Void Around tearing everything, but is piecemeal and connects ... irritating and making love what before it hated! Hatred have to be loved as well!
Torn, bursting start opens Morning Lights for us, but there's no sense to expect for something dull and predictable - this morning breaks the expectations! No sence to waste the time - go forth!
You'll not go?! Haye to - or From Somebody To No One! Fast, powerful, quick instrumental that outlining the slow and powerful verses!
Powerful and fast jerks opens Across The Bay blues continues flowing through the modern style, alternating by scream and growl, turned into mystical guitar riff in instrumental part.
Dreamily begins, continuing its Whisper conversation slowly. Then this conversation is gaining power, strengthening its course and adding the essence.
Gently, carefully, intricately ... PUNCH! FURY! BEAT! You have to understand the Worlds Beyond! Rage comes from every pore, it permeates all your parts thoroughly!
Grey Colours?! NO! WHERE?! Where colors gone? Where all of them? Why all of the stuff lost its shapes and colors?! Where all of that?! Rage takes my heart, my mind loses an adequate perception of reality! Where all the colors?! ALL JUST GREY!!! Pointless to to fight the obvious - Cult Of Ignorance will surpass all, it can not be overcomed by no way! No prays, no oblivions! You have to parse it! Pray - or die!