November 06, 2017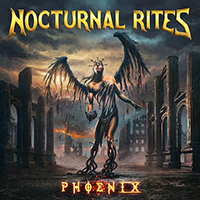 Restrained and disturbing composition A Heart As Black As Coal begins the Nocturnal Rites - Phoenix album with the thoughtful and mysterious sound, brightly and melodically enveloping the consciousness with bright melodious turns.
Continuing to sound in this same enigmatic twilight, Before We Waste Away envelops music with even more unpredictable thoughts, but withot sweeping the unrestrained drive.
Sometimes, sweeping waves of furious drive, The Poisonous Seed music still remains fascinatingly melodic, the vocals embody trefozhnye thoughts and bright symphonic passages sparks through this restless twilight.
So bright, unique melody captivates in a ballad Repent My Sins, not allowing to distract from this charming music even for a moment!
Harsh severe march What's Killing Me with brothers-in-arms supporting with their yells on the background motivates to fearless battle, but thoughtful meditation before the battle is the true essence of the composition.
Vocals fully expresses their thoughts in A Song For You, the sound is incredibly modern, easy inspires with their musical images.
Music in The Ghost Inside Me introductions throws a bit of drive, but with the introduction of the vocal hits first in lyrical meditations, in a chorus the violin concert begins, then in a chorus of voices calling for orchestral support.
Twilight riffs in the intro moves aside, skipping a bright melodic Nothing Can Break Me leitmotif, complementing the pensive vocal phrases.
A thoughtful ballad, combining vocal phrases with a symphonic leitmotif in Flames, combining key motifs and violin passages, enchants with its sound.
Twilight musical motifs and thoughtful vocal phrases that evaluate Used To Be God creates the atmosphere of alarming thoughts, ending with confession in the chorus.
Welcome To The End continues the style of the previous composition, in instrumental parts and bridges, sometimes sweeping the pace and bringing bright melodic parts to the top of the musical image.