January 29, 2022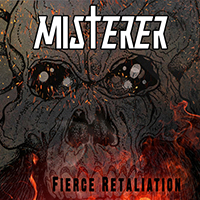 The energetic musical drive and fierce vocal anger combine in a single pushy and impetuous whirl of the Black Fire Monkey song's verse, transforming into a meaningful solemnity of the chorus of the Misterer - Fierce Retaliation (EP) release's first composition.
Then the music continues with a kind of the Left Behind / Assassin dylogy - at first vocals and music are combined in the sound of a thoughtful and romantic ballad, walking together in the atmosphere of intriguing mystery. But then the music explodes into a whirlwind of frenetic musical thriller, throwing away conventions and smashing to pieces any obstacles in its path.
Memories of past events and the disasters experienced are embodied in the sound of the Hate Song 2020 song, combining indignant and furious vocal proclamations with an unrestrained musical drive and powerfully driving rhythmic piles of places with the accentuation of the song's title.
This release concludes with a manifestation of the band's concert memories - the Ignorance (Live) combination of musical energy, drive and power with the energy of fans' hearts and the impressions of concert-goers.