January 29, 2022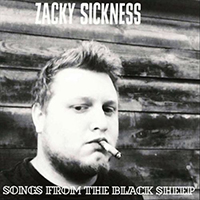 Energy, fury and drive combine in the single musical flow of the Breed song. The intro guitar solo sets the way for the development of the Robot Children main motif, then the vocals give echoes of space rock and 60-70's music in the sound of the Zacky Sickness - Songs From The Black Sheep album.
Notes of blues show up in the sound of the Small Musician's Song track, but then the music and vocals interpret the original intentions in a very peculiar way. The acoustic guitar solo gives a romantic outline to the musical image of the Songs Of The Black Sheep title ballad. The Nightmare Called Life brutalizes music with a fierce sound, transforming the vocals into an approach to growling and brutalizing the musical covers.
Once again transforming the stylistic covers of the musical passages, the I Don't Know composition brings in notes of 80's music. Notes of reggae appears in the sound of the Hawaiian Danceyard song, then calling not just to a different style of rock music - on the contrary, to a completely different musical genre in the sound of the Rap Song.
Once again, the sound of the album expands its scope - in the sound of the Another Day track, gothic notes and synth-pop appears. The Songs Of The Past track fascinates with its intriguing sound with the mysterious development of the musical essence, anticipating the furious drive and power of the I Give Up final musical thriller, introducing some elements of thrash and even death metal, manifested in a furious musical rage.