March 23, 2021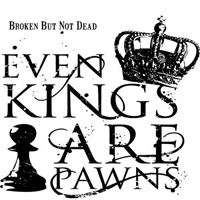 Spearly, mysterious and foggy the Centuries composition starts the musical narration of the Even Kings Are Pawns - Broken But Not Dead album, full of mystical mysteriousness, at first I was broken in a leisurely march of the dark anthem, then the fierce sound and sealing rhythm in the Division Line song, withdrawing the vocal party to the forefront of the musical image, complementing the stern growlning phrases with an emotional screaming in the vocal party.
Epic appealing of the Voiceless intro's guitar solo attributes the banners of a majestic hymn, with the entry of vocals accelerating the musical canvas, but then weaving laces from the music variations of the magnificent anthem around the vocal phrases.
The music continues to extend the battle march, bringing a rolling of musical waves of the exhaust of medieval fairy tales, complementing the magnificent significance of the musical web of the Fragile Foundation composition.
Hard and rhythmically pulsating, the A Higher Expectation song is rigidly and sternly drives so the marchs of the completion of the album.