January 27, 2023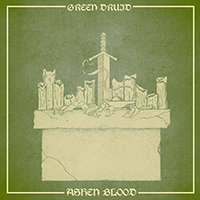 Painfully and unhurriedly marching through the twilight haze of vague omens, the Pale Blood Sky composition begins the musical story of the Green Druid - Ashen Blood album, enveloping the vocals narrative and artistic improvisations with veils of twilight omens and vague forebodings.
Distracted and abstract musical passages and muffled vocal reflections slowly, carefully and painstakingly choose a path, laying the musical canvas of the Agoraphobia main motive, focusing on weaving a bewitching musical lace, creating a mysterious atmosphere of a musical fairy tale, anticipating the unhurried pace of the Dead Tree twilight narrative, bringing dark notes to the vocal story , entwined with veils of dark musical mystery, enveloping the rhythmic tread of the main motive in a twilight atmosphere.
Mystical mystery with echoes of oriental motifs and the influence of forgotten fairy tales on the musical narrative weaves the musical lace of the Cursed Blood composition, which develops in the rhythmic and persistent pace of the Rebirth song, bringing shades of rebellion and defiance to established musical orders into the vocal part. The guitar solo of the intro rises in inspirational melodicism above the stubborn but gloomy pace of the Ritual Sacrifice musical background, which rolls in waves of gloomy forebodings and disturbing in the vocal story. Gatherings by the evening fire, the croaking of an invisible raven and musical mystery weave the Nightfall twilight end of the album.