October 04, 2016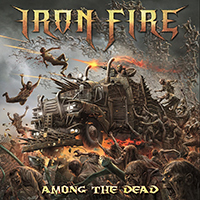 Post-apocalyptic story that reflects a lot of features - you Iron Fire - Among the Dead now and ever!
Announcer drives speech, symphonic tunes, ragged rhythm and intermittent sentences combines into Intro (The Lost City).
Starting with mysterious ancient oriental motifs, the title track Among the Dead keeps rolling in and stubborn pace, accelerating to a stunning rhythm in the bridge before the chorus, that smashes with its sound any obstacles on the way!
Mighty force shows an irresistible power, only Hammer of the Gods can use it! Crisp, booming rhythm carries its march the attention of others, following the beaten path of humble servants and adherents without any shade of doubt!
Distinct crushing rhythm continues to stride on its way, crushing doubts and obstacles in the bridge before the chorus of Tornado of Sickness speeding up the pace to overwhelming velocity! Then, inspired by the exploits melodic instrumental part, jacking up the pace for the guitar solo before the next chorus.
Vocals raises the tone for the Higher Ground, reassuring and increasing courage and inspiration. Then, flying at a high pitch - and the crowd of assistants outline its limits with their harsh screams in the chorus.
After inspiring and encouraging phrases and thoughts intro of the Iron Eagle brings to mind the romantic ballad, but the power and fury does not go away, stubbornly hammering its punches and moves to the sound of the song. But ballad breaks through resistance in the chorus.
The main motif evokes the resistance of consciousness generally accepted canons, established that you was Made to Suffer. And in the composition romantic and melodic vocals and the leitmotif combines with a sharp, powerful and fast rhythm.
Hard times have come, the world is caught up in the destruction and became a wasteland - The Last Survivor have to survive and carry forward a fraction of humanity, harsh vocals inclusions insist that in the chorus.
It combines slow meditative reflections in verse with violent screams in the chorus, making sure that No Sign of Life around! Lifeless wastland everywhere!
The persistent and violent motive opens sad reflection about Ghost from the Past, turning into a melodious romantic saga, that accelerating the music from time to time, trying to keep up with the elusive ghosts of past times.
Wandering in the wastelands of ruined city, among the real enemies and the ghosts of the past - When the Lights Go Out necessary to relax, rejuvenate by the campfire, singing melodic romantic ballad with a guitar. At dawn - again in battle and struggle with all the surrounding misery!
The album closes with the interpretation of the legendary composition Whom the Bell Tolls well known by all of us - because that's Metallica cover! So - time marches on!