May 17, 2016
Classic wants permanence, but time comes, everything changes. Enclose yourself in Lita Ford - Time Capsule.
Where Will I Find My Heart Tonight rhythmic melodic ballad leading away in embodied dreams space. Will that come true or not - still unknown!
Killing Kind keyboards accompany the beginning, then emotions force their way out to all of us.
Acoustic guitar begins the War Of The Angels then the lady shares her memories to all of us.
It's time to rise the pace for a bit. Black Leather Heart done that as well. Well, what else to dream - is not about someone in a Black Leather?
The mid tempo continues tour to Rotten To The Core. Well, describe and evaluate all around. Just don't do that for those who are rotten to the core!
Little Wing instrumental composition, allows you to hear and perceive all the guitar moves and fine rhythm section.
On The Fast Track faster, harder, more furious instrumental composition.
The peaceful calm ballad King Of The Wild Wind gets more hard in the end of its length.
Stared by yell Mr. Corruption rhythmic composition of the entire length, well - the story about Mr. Corruption needs clarity and intelligibility!
Anything For The Thrill the quickest song closes the album by their fast rhythms and non-boring guitar riffs!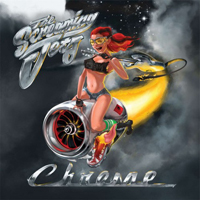 Album Screaming Jets - Chrome, started by the Automatic Cowboy, which slows down the pace of the chorus, the listener can enjoy its automaticity more time.
Cash in Your Ticket blues-like story about how it may be uncomfortable, that the latter need the money for a ticket.
Razor perky began continues by vocals under the drum 'till the chorus, in the instrumental solo guitar softly play up to each other.
No Place No Home lyrical melancholic ballad about the hard life and unfulfilled dreams.
Accelerate the pace! Starting to split up the space around by the rhythm of The Grip. Harsh and fury of emotions released! No violence expected from the title in Sex and Violence we can't find out. But - she's lost in the silence, so much sex in your violance!
Won't Stop You cheerful composition located between ballad and an average pace.
Smack in the Mouth accelerated pace, lively reefs and conservation of the positive mood! No guts - no glory!
More dense, rich sound of the beginning of the Scar. But despite the grim name, major attitude persists even here!
Guitar cut up intro by its riff, Turn It Around slows a bit after the quick start to get higher pace in the chorus!
The guitar starts by leitmotif last song of the album - It's Time. Yep, it's time to walk away!